NOVÉ
Digitálne inšpirácie #72: Čo inovatívne sme spolu zrealizovali v októbri
Vo svete IT je dôležité prispôsobovať sa trendom viac, ako kdekoľvek inde. To však nemusí nutne znamenať vývoj vždy nových funkcionalít. Niekedy ide len o nový pohľad na už existujúce riešenia. Občas je treba pre zlepšenie SEO projekty spojiť, ako to bolo pri eshopoch Kostrej a Mixnabytok. Inokedy zase niečo rozdeliť, čo zabezpečili nové mikroslužby na weboch Dr.Max. Samozrejme, môžeme aj zodpovedne experimentovať a vyskúšať napríklad umelú inteligenciu, ktorú aktuálne využívame napríklad v Crossuite. Jedno je však isté – bez prispôsobovania sa to jednoducho ďalej nepôjde.
#health
Dr.Max funguje efektívnejšie aj vďaka novým mikroslužbám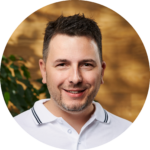 Na Dr.Max sa najnovšie snažíme o rozdelenie veľkého projektového "monolitu" na menšie funkčné celky, ktoré sú jednoduchšie na údržbu. Ako najvhodnejšieho kandidáta na začiatok týchto prác sme vybrali Search. Spustili sme mikroslužby v jazyku GO, ktoré zabezpečujú vyhľadávanie a aktualizáciu dát v search engine.
Pridanou hodnotou takýchto mikroslužieb je centralizovanie biznis logiky na jedno miesto. Koncoví používatelia si potom už len zobrazujú výsledné dáta, ktoré im služba na ich dopyt vráti, čo je pre nich pohodlnejšie a pre systém bezpečnejšie.
Odpovede zo search enginu sa ukladajú do cache vrstvy, čím sa minimalizuje počet duplicitných dopytov na systém. Zároveň fungujú v multitenant režime, čo znamená, že na jednu službu a jednu aplikačnú logiku sa napája momentálne 5 krajín, v ktorých Dr.Max pôsobí.
Prvá AI funkcionalita na projekte Crossuite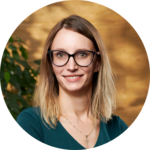 V októbri sme po dôkladnej analýze implementovali do projektu Crossuite prvú funkcionalitu poháňanú umelou inteligenciou. Ide o generovanie záznamov zo zdravotnej karty pacienta. V rámci funkcionality AI spracuje všetky záznamy konkrétneho pacienta zo sedení (treatments) súvisiacich s konkrétnym problémom (complaint). Následne vygeneruje sumár, kde je stručne zhrnuté všetko, čo sa s pacientom dialo.
Každý lekár si vie vytvoriť vlastný sumár ohľadom určitého pacienta, pričom AI pracuje len s dátami, ku ktorým má pridelený prístup. Funkcionalitu ocenia medicínski pracovníci najmä vtedy, keď bola liečba prerušená a potrebujú si pred najbližším sedením pripomenúť jej priebeh, alebo keď sa začnú starať o nového pacienta, ktorého medicínsku históriu si potrebujú naštudovať.
Funkcionalita je aktuálne nasadená v testovacej verzii aplikácie. Ak sa osvedčí, čoskoro by sme k nej radi pridali aj ďalšie.
#ecommerce
Zachej.sk už doručuje aj do sietí výdajní Depo
Okrem existujúcich spôsobom dopravy (Packeta alebo Sloveská pošta) majú odteraz zákazníci Zachej.sk možnosť vyzdvihnúť si svoj balík aj vo výdajniach Depo, ktoré zahŕňajú vyše 600 pobočiek, či populárnych AlzaBoxoch.
Aby mali zákazníci pri výbere doručenia objednávky lepší prehľad, výdajné miesta spoločnosti Depo a partnerskej spoločnosti Alza sme v rámci košíka oddelili. Výdajne zároveň zobrazujeme aj v našom vlastnom už v minulosti nasadenom riešení – interaktívnej Google mape s vyhľadávaním na základe názvu či miesta. Pri pobočkách sú zobrazené aj základné informácie, ako názov, adresa či otváracia doba.
Jednotlivé výdajné miesta od rôznych prepravcov je pri výbere doručenia možné kombinovať a zvoliť si tak najviac vyhovujúce miesto pre vyzdvihnutie balíka. Veríme, že nový spôsob dopravy zrýchli dodávanie zásielok z eshopu a poskytne zákazníkom možnosť si svoj balíček čo najpohodlnejšie vyzdvihnúť.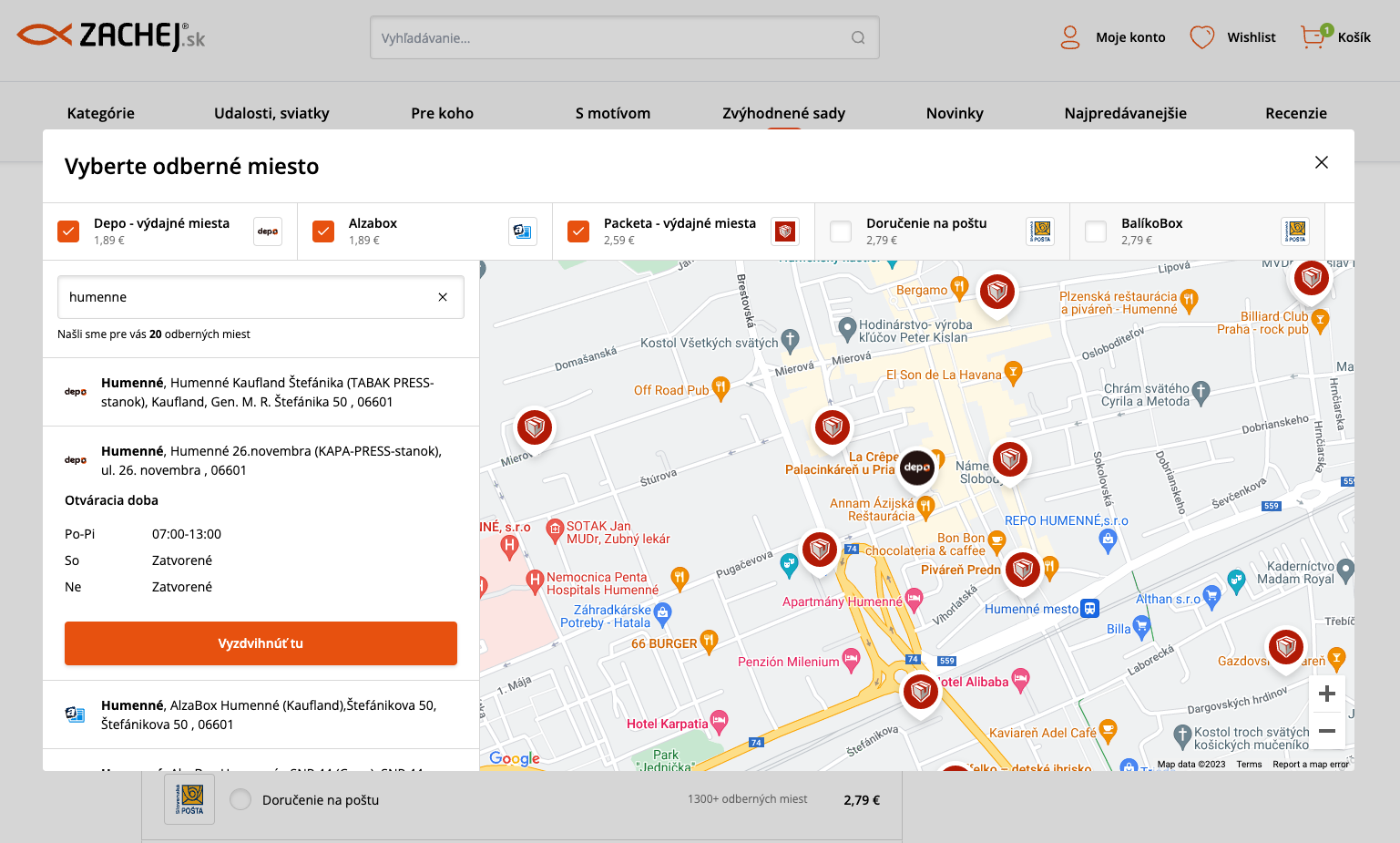 Redizajn produktových stránok na Sanitaske.sk prinesiel lepšiu prehľadnosť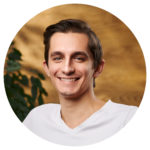 Posledných niekoľko mesiacov chystáme rozsiahly redizajn eshopu so zdravotníckymi potrebami Sanitaske.sk za účelom zlepšenia používateľského zážitku nakupujúcich. Aktuálne pracujeme na úprave produktovej stránky, ktorá bude zahŕňať napríklad detailný popis, príbalový leták či galériu. Nové či zľavnené produkty navyše odlíši od tých ostatných špeciálny tag vo fotografii.
Zároveň pribudnú aj nové funkcionality, ako napríklad možnosť pridať produkty medzi obľúbené. Všetky tieto zmeny by mali prispieť k rýchlejšiemu nakupovaniu najmä v B2B segmente, no veríme, že ich ocenia aj koneční zákazníci.
| | |
| --- | --- |
| Pred: | Po: |
| | |
Menej je niekedy viac a preto sme Kostrej.sk a Mixnabytok.sk spojili do jedného eshopu
V minulosti bolo bežnou marketingovou praxou založiť si niekoľko eshopov, hoci aj s rovnakými produktami, a zvýšiť tak svoje šance na predaj naprieč internetom. Doba sa však zmenila. Dnes o predaji nerozhodujú len ceny, ale aj recenzie či viditeľnosť webu. Je preto efektívnejšie investovať prostriedky aj energiu do jedného obchodu a postupne vybudovať jeho dôveryhodnosť aj SEO. Náš klient Kostrej.sk to vie, a preto nás požiadal o zlúčenie svojho eshopu so sesterským Mixnabytok.sk, na ktorom predával totožný tovar.
Vytvorili sme preto nový strom kategórii a postupne doň zaradili všetky produkty zo sesterského eshopu. Zároveň sme nasadili parametricky generované URL, ktoré majú šancu zvýšiť SEO stránky. Teraz sa zákazník môže sústrediť na reklamnú podporu jednej stránky a nerozdeľovať zbytočne svoje marketingové náklady medzi viaceré kanály. Jeden eshop je navyše jednoduchší na správu aj na vylepšovanie či dopĺňanie funkcionalít.
Zaujala vás niektorá z inšpirácií a radi by ste ju nasadili aj na váš projekt?