Online Tools That will Make Your Life Easier
There's some truth to the saying that time is money. It happens to all of us – we spend a lot more time on a simple task than we should. Sometimes this is due to lengthy googling, sometimes a lack of information. But there's a solution to everything, so why not make your life easier by using simple tools that are available to everyone?
We live in a time when technology anticipates our needs, reduces our workload, and even increases our productivity. Innovation knows no boundaries, which is why new solutions appear day by day, thanks to which a lengthy task can become a piece of cake in two clicks for us. We don't want to be complacent either, so we accept similar hacks with open arms. If you start paying more attention when the word "hacks" comes up too, read on. We bring you proven tips on online tools that will save you time and money. 
TinyWow | Regular users
TinyWow brings you a free online conversion option that will save you a lot of wrinkles on your forehead. It contains more than 220 tools for editing and converting various types of files (documents, images, videos, music and more). If you're worried about the security of similar sites, TinyWow promises to delete files within 1 hour after they are uploaded.
The result? An ideal tool for ordinary users who wouldn't use the full potential of paid tools. Forget about endless googling – thanks to TinyWow you have everything you need in one place
The combination of fonts you choose for your design shouldn't be underestimated. Experienced designers have established ways to rely on when choosing a font. For the less experienced, the online Fontjoy tool can be used, which uses machine learning technology and can use the neural network to select the best combinations of fonts.
The choice of fonts is subject to certain principles. The authors of the site state that fonts that are very similar, but at the same time share subtle differences, create a visual conflict in combination. The same applies to fonts that are so different that it's distracting. Typically, fonts from the same family or from a specific designer are used. Fontjoy will make this selection for you.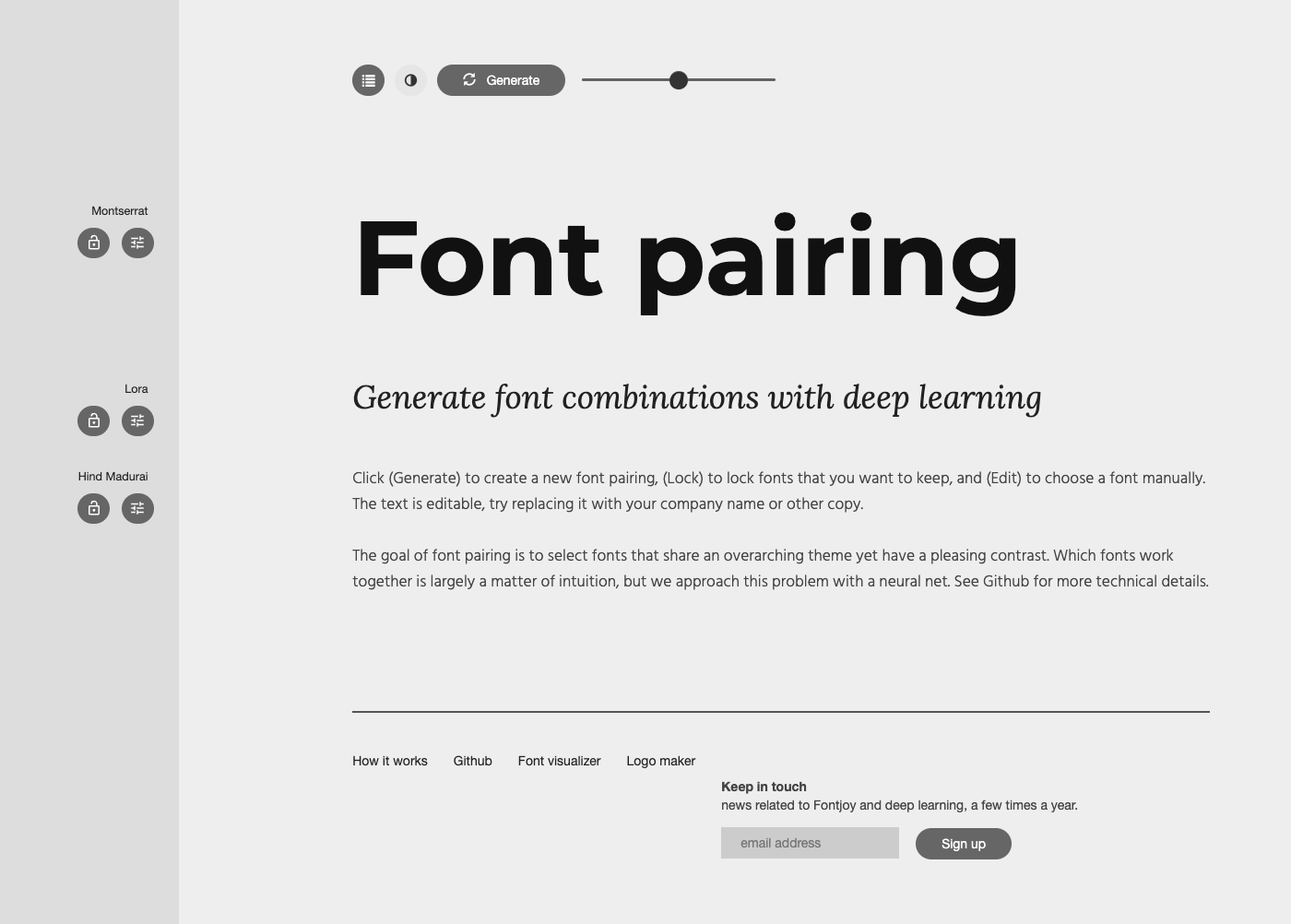 The result? The site is completely free, so it's available to everyone. You click between the different combinations using a simple button and you have the name of each font displayed. A great hack in our opinion!
Good news for developers – the end of the laborious processing of readme files. A readme or text file, which serves as a form of documentation, usually contains details of the project, application or game being developed, instructions and description of individual sections. However, creating a high quality and comprehensive readme file can take valuable time and energy. The author of the readme.so project came up with the solution, which is liked by beginners as well as the advanced.
It's a simple editor that allows you to create readme files clearly, in a structured way and, last but not least, quickly. You can choose from a number of default sections or simply create your own. At the same time, you can easily rearrange the individual sections and edit their content. The editor also includes a preview of how your readme file will be displayed.
We also perceive the importance of readme during the hiring selection process, when evaluating a completed assignment. They shouldn't be forgotten, regardless of whether they are intended for your own use, for current or future colleagues, or for the users themselves.
The result? The editor stands out from the available markdown editors, mainly due to its functionality. It contains everything we would expect from a high quality readme editor – a simple UI with a list of potential sections, an editor with default content, the correct syntax and a preview of your text.
We've already written about the new chatbot that's built on artificial intelligence, in an article about the future of programming. However, the use of ChatGPT cannot be limited to the IT sphere. Artificial intelligence moves the world, even in the marketing waters. A good copywriter can cope with many texts, but even the best creator needs a helping hand from time to time.
You just need to write a command for the chatbot to write a blog, a social media post, an e-mail or any written content you need at the given moment. It will help you with a creative block, add "juice" to a plain text, suggest a catchy introduction, entice your audience or even add CTA at the end. Bloggers, e-mail marketers, but also owners/admins of e-shops or ordinary users will benefit.
The result? ChatGPT can reliably generate engaging text in several languages, including Slovak. However, it has its downsides. If you decide to use it, you should remember that the text generated in this way can fulfill the desired function, but it certainly lacks the uniqueness that your content would gain just from you.
There are a number of innovative tools that bring value to both individuals and businesses. It doesn't matter if you're an entrepreneur, employee, or just looking for ways to improve your personal productivity. Similar free solutions simply save you time and money, streamline your workflow and ultimately your daily life. If you haven't already, it's definitely worth giving it a try.
After all, even the conclusion of this article was created with the help of one of them ?