Where Do Bartan Polar Bears Swim?
In order to give proper work performance, we need to feel good at work and sometimes exchange the work for relaxation. For us, bartan polar bears, it all comes down to ice bathing during the winter months. How and why do we keep doing this third year in a row? 
At the moment, seven of us go ice bathing together. In icy water, we try to overcome ourselves, which is probably one of the most important qualities of successful people. This brings me to the first reason why we do this. It's necessary to exert yourself everywhere – at work, with important deadlines and in difficult situations, even outside of it, in various life events. This is how we practice this trait.
The second reason is health. I can't say that since we've been cold water immersing, none of our crew was sick, but when the disease catches up with us, at least its course is easier. It seems that we're more resistant to external conditions and we're still warmer than those who don't clamber into cold lakes with us. During ice bathing, we form brown fat, which protects us from the cold. So we don't have a shield against illnesses, but when the weather changes, we don't have to dress with X layers of clothing, we don't catch a cold straight away and we don't have to bother colleagues in the office with sniffling 😀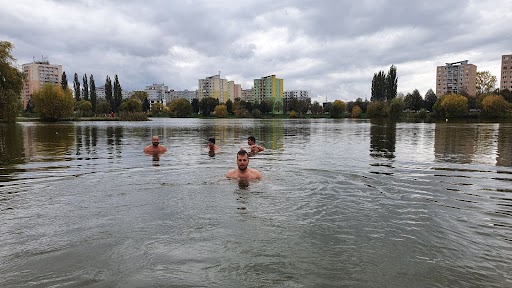 And the third reason is relaxation. We go ice bathing during the lunch break, which is therefore longer than usual, but it's worth it. We reset our heads in the middle of the day and return to the computer full of energy, often with a newfound drive for work. In addition, such regular meetings can also be considered a kind of team building. Nothing strengthens relationships like goading each other to enter 2-degree water 🙂 But it never takes too long, and since we do it voluntarily and with the knowledge of the positive effects, we always manage to successfully do it in the end. Our colleague Maťo recently brought another challenge in addition to cold water immersion – he says that when you run before, you feel warmer in the water and you tolerate it better. Well, I don't know, I haven't tried it myself, so I'd rather not write about it 😀
And where do we go cold water immersing? To the Nad Jazerom neighborhood, or, when we have more time, in the Bukovec lake. However, recently, we also tried different waters – the pond at the Zlatá Putňa winery in Viničky. What were we doing there? We had a company party. And it's said that if you have a headache in the morning from the night before, the cold helps. It really helped us – after less than four hours of sleep and a modest breakfast, we jumped into the icy water and after a while, the hangover was gone. So if you're looking for a way to have an effective day even after going through a Christmas team building, I recommend cold water bathing! 😀